With Zumba like with any other fitness program, if you're into it, you want to be the best. You want to reach goals, look cool and do not harm yourself.
Proper Zumba shoes and Zumba attire must help you in that along with your dedication.
And the best shoes for Zumba class on your feet that means your superb movements, your comfort, and your lower body health.
Don't have time to read the whole article? Click button bellow to see ratings

(Table Of Content)
Check the table below for the best shoes for women, which were rated the highest by our Zumba experts. Detailed information about how to choose the best sneakers for Zumba, and more information about each model you can find after the table
| | Comfort | Support | Flexibility | Avarage rating |
| --- | --- | --- | --- | --- |
| Ryka Rythmic | 5 | 5 | 4.8 | 5 |
| Capezio DS24 | 4.9 | 4.5 | 5 | 4.9 |
| Bloch Amalgam | 4.8 | 4.5 | 5 | 4.8 |
| Reebok UR Lead Mid Shoe | 4.8 | 4.7 | 4.8 | 4.8 |
| Zumba Z-kickz | 4.6 | 4.7 | 4.7 | 4.7 |
Short Zumba History
That's unbelievable how popular Zumba is nowadays, according to Wikipidea approximately 14 million people take weekly Zumba classes in over 140,000 locations across more than 150 countries. Especially if to take into the account that it was invented only in 1990's.
The story is actually pretty amusing. Zumba was invented by accident. Beto Perez (founder of Zumba) forgot a music tape for his aerobics class, so he grabbed whatever he had in his car. And that was traditional Salsa and Merengue music, so he has nothing to do but use it for the class. And could he even imagine how it would all end up.
That first Zumba class was so successful, that he decided to continue. Very soon it became super popular in Colombia, and expanded to other countries world-wide, including USA.

Characteristics of the Best Zumba Shoe
Comfort
Comfort is the most important characteristic of any athletic shoe. It doesn't matter how many great features Zumba sneaker has if it's uncomfortable, go for another one. Luckily, there is a plenty of shoes to explore in various brands.
Weight
Zumba fitness shoes must be light. You want your feet fly in Zumba steps like butterflies, without the feel of stones below your ankles. That's why choose lightweight Zumba sneakers over heavier options.
Breathability
You move quite a lot during Zumba class and start sweat pretty fast, including your feet. That's why athletic shoes with good breathability are important for good Zumba experience.
Stability
Choose shoes for you workout with wide soles. It will provide your feet with stability you need to make slides, turns and jumps properly.
Space in toe-box
Enough space in the toe-box is a key for a perfect dance moves. When you on your toes, they are stretched (means longer), so they need more space than when they are relaxed.
Pivot point
Shoes with pivot point are always better choice. Pivot point is a special place on the sole of your dancing shoes, which help you to twist easily. Zumba workout shoes with pivot point will protect your knees. With regular shoes, which has too much grip in the sole, when you twist your legs, your upper leg moves further than your lower and puts too much pressure on your knee.
Thus, the best Zumba shoes for bad knees are shoes with pivot point. And all proper dancing shoes on the market and in our top 5 have pivot point.
Purpose
When choosing Zumba tennis shoes, you need to ask yourself on what surface you usually practice Zumba. Shoes that perform great on carpet will be too slippery on polished floors.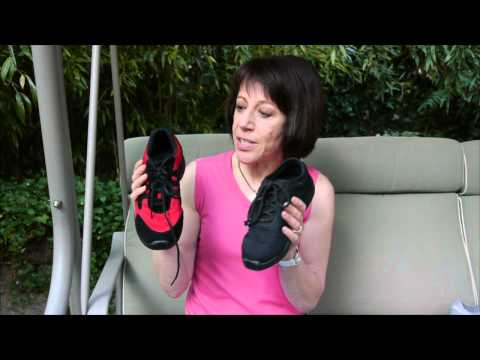 Types of Shoes used in Zumba
Solid sole vs. Split sole
Solid sole shoes have a full normal sole, which provides a good arch support. This type of shoe can be used equally well by Zumba amateurs as well as by Zumba veterans.
Solid sole shoes are the most popular type of shoes, because they can be used with orthotics, and provide more arch support for people with flat-feet or high arches.
On the other hand split sole shoes are the classical dance shoes. They do not have midsole, what allows additional foot flexibility. This type of shoes provides poor arch support, and only suitable for Zumba enthusiasts with strong feet build by previous dancing history or lots of barefoot and minimalist running/walking.
Low shoes vs. Mid shoes
Low shoes are shoes, which reach below ankle and provide more movement freedom for your feet but less stability. While mid shoes provide more stability and less flexibility, by covering your ankle.
Choice between two types of Zumba fitness shoes are really a personal preference, and you need to try both to decide.
Running sneakers for Zumba
Many Zumba beginners start to practice Zumba in regular athletic sneakers. And that's normal that you do not want to invest in special shoes, before you're sure that Zumba suits you as a fitness program.
However, as was already mentioned too much grip with a floor, which is good for running shoes, because you don't want to slip while running, is actually pretty bad in Zumba.
And you will feel a huge difference in your pivots as soon as you will switch to proper dance shoes.
Plus, most of solid sole Zumba sneakers are great looking and you can use them as everyday shoe, even if you won't be using them.
Our advice is to switch to Zumba footwear with pivot point as fast as possible. Or at list invest in Smooth Dancers or similar product from other brand. They are slip-on bands for your regular shoes, also called dance socks.
These bands are an inexpensive solution to too much traction of the sole, but they are somewhat hard to keep in place. They like to slip off constantly. Plus be sure to choose the proper dance socks, because they are available in two types: Carpet dancers and polished-floor dancers. Carpet dancers will be too slippery if used on smooth floors.
You can experiment with slip-on bands if you have flat feet or high arches, and already find the best athletic shoes, which feel great on your arches. Just put the smooth dancers on, and transform your regular but perfect for your feet sneaker into your own best Zumba shoes for flat feet or high arches.
The Most Popular Brands of Zumba shoes
Ryka shoes
Ryka shoes are one of the most popular canvas sneakers among Zumba-fitters. This brand specializes on women's athletic shoes and apparel. And they are taking that pretty serious. Ryka brand believes that women's anatomy is different from men and that women need shoes, not only smaller than men's shoes, but constracted in completely different way.
They have a verity of shoes suitable for Zumba. But new Ryka Rythmic and good-old Ryka Influence are especially loved by Zumba-fitters.
And that's not surprise because Ryka dance shoes are light with ortholight removable inserts, breathable mesh, good lateral stability and a pivot point – everything you need for wonderful Zumba experience.
Zumba® shoes
Official Zumba® brand besides Zumba clothing and Zumba DVDs also sells shoes, and who can know better what a perfect Zumba shoe should be than creators of Zumba.
Zumba brand shoes are very vivid-looking. They have EVA outsole with a pivot point. They are durable, breathable and light.
All Zumba® shoes are great, but Z-kickz are the most popular. It has rubber EVA sole and durable nylon mesh, and of cause a pivot point, which every good Zumba shoe must have.
Bloch dance shoes
Bloch is a very serious brand, which was founded back in 1932 in Australia. At that time they were making ballet shoes, but gradually widen their repertoire to all kinds of dance shoes.
Though they now offer more usual Zumba sneakers like Bloch Lightening.
The Brand is famous among Zumba-fitters and dancers all over the world by their split sole dancing sneakers like Bloch Boost.
They are great dancing shoes, though a split sole gives them a little bit strange look. But who cares, especially after Vibram fivefingers became so popular. Split sole shoes definitely are not weirder than shoes with 5 toes.
Bloch also has such great split shoe model as Bloch Amalgam. This shoe looks more like regular aerobic sneaker but with a split sole. And split sole offers a great movement freedom to your feet.
Capezio shoes
Capezio shoes are even more famous than Bloch. It's Italian brand founded in 1887 by Salvatore Capezio. Capezio dance shoes are well-known world-wide. Famous ballerinas danced in Capezio pointes, all Broadway danced in Capezio. His shoes even got onto the Vogue's cover. Capezio dance shoes are the classic of dancing shoes.
Capezio DS24 is the most suitable shoe for Zumba in this brand. It's a classical split sole shoe in black. If this kind of shoe was made by any other company we would say, that it's simple and boring. But Capezio can't be boring by definition, because of their excellent quality and because of their history. With Capezio shoes on your feet you should feel like you standing by the side of the most famous dancers of the world.
Reebok shoes
Reebok is famous athletic shoe brand, they have a model for any activity and fitness out there, and Zumba is not exclusion. Reebok sneakers can include, but not limited to, such models as Reebok UR Lead and Reebok UR Lead Mid Shoe. They are light-weitht, flexible and with a pivot point. And mid-shoe style provides your feet with great lateral stability.
Nike Shoes
Nike as well as Reebok tries to cover every niche in athletic shoe market. They offer to Zumba enthusiasts Nike Musique IV dance shoe. It's a decent shoe, but it's not very breathable and a little bit boring. There are much more interesting options than that. Though, many people who tried this model speak positively about it.
Asics shoes
Asics shoes are well-known by their super-comfy Gel-series. A Gel dance shoe is available among other Gel models. It's called ASICS Rhythmic. Besides having gel cushioning for additional comfort, it has a pivot point, which, as was mentioned many times is a must for good shoes.
Other brands
There are a couple of good Zumba dance shoes in other brands too. For example PUMA Janine and New Balance WX867 are loved by many Zumba-fitters. However, we do not recommend Puma Janine because, our experts believe that it's too stiff and lacks some comfort.
And New Balance WX867 has many complains about shoe's tounge which is sewed from one side to the shoe, that is strange dicision and uncomfortable. These New Balance shoes run a full size smaller and very narrow too, so be ware.
Top 5 of Women's Zumba Sneakers (models and reviews)
Ryka Rhythmic Zumba shoe
RYKA Rythmic is the best Zumba sneakers for beginners, though it's well loved by veterans too. It's simply great because of its cushioning, support, and pivot point for easy twisting. Plus these Ryka sneakers are orthotic friendly, so you can put your custom made inserts for even better comfort and support. Though, original inserts are also thick and cushy. Thick enough that these shoes could be called the best shoes for plantar fasciitis and other feet problem.
It is recommended to order 1/5 size larger, according to customers' reviews and the fact that for good Zumba you need enough room for your toes.
Characteristics:
Synthetic and satin upper in a low-impact studio training sneaker
Lace-up front, padded tongue and collar
Direct-Fust bracing for lateral support
Scotchgard(TM) stain and water-resistant treatment
Textile lining, cushioning injection molded insole
Removable compression molded EVA internal midsole
Full foot rubber outsole with pivot point
Weight: 7.3 oz.
Orthotic friendly
People are saying:
"I love Rykas and have had several pairs for various fitness activities. My last 2 shoes have been designed for dance/studio, as are these, and I'm so far very happy with the fit and feel of these! They are very light and allow the lateral movement and twisting moves Zumba requires. I am flat-footed and usually need arch support, (which a studio shoe does not really provide) but for Zumba it is more important to have a studio/dance shoe to move the way you need. I do 2 classes back-to-back and these shoes are working great for me. They are comfortable shoes and super cute!"
"these shoes have very thick cushioning in the removable insole – at least1/2 inch in the heel zone and more than a 1/4 inch of cushioning in the rest of the insole. This is after many hours of use and doing jumping jacks and other weight-bearing exercise – and I am a plus-sized woman. So far these shoes continue to be in perfect condition. I have never seen such a generously cushioned insole in a shoe."
Zumba® Z-Kickz Shoes
Zumba Z-Kick are light-weight shoes, made for Zumba dancers. They are light, but very durable with Nylon Ripstop shell for additional durability. Your feet will stay dry and cool even during the most intense Zumba class. A great addition to the shoes is additional free laces in a couple of bright colors.
Zumba® Z-kickz, if compared Ryka Rhythmic, is more shallow show with less of cushioning. That's the main dislike in this shoe by customers. Plus the shoe is pretty wide, so not the best choice for narrow feet, but is the best Zumba shoe for wide feet.
Characteristics:
Rubber sole with pivot point
Nylon Ripstop shell for added durability
EVA outsole
Several sets of colorful laces
People are saying:
"TThese shoes are light as a feather as I dance away. They help you glide along on the wood floors as they support your feet but have the feel of dancing shoes"
"No break-in period required with this shoe. This shoe is so lightweight; perfect shoe to wear for Zumba or any dance fitness class. Lots of compliments."
"Very comfortable, very very light. I am now able to keep up with the moves better than before, regular sneakers are just too heavy for Zumba. I would recommend it."
Bloch Amalgam
Bloch Amalgam is a split sole dance sneakers. They are very light and comfortable and cost almost a half of other dance shoes (so it's a great option if you look for cheap shoes). Split sole allows great feet flexibility. If you have strong feet and looking for freedom in the Zumba dance, definitely this shoes are for you. For those, who expect from Zumba dance shoes lots of cushioning and support Ryka Rhythmic is the better option.
If you feel like Bloch Amalgam shoe is for you, be sure to order at list 1 size larger, because it runs small.
Characteristics:
Canvas and mesh upper
Split sole shoe
Rubber sole
Heel measures approximately 1/4″
Dri-lex lining is non-wrinkling breathable and odor/mildew resistant
Non-marking split sole
People are saying:
"I hurt my ankle doing Zumba in my regular tennis shoes, so I did some research and went to local dance studios to get recomendations. This shoe also came highly recommend by some ladies in my class, at the local dance shops, and on Amazon. I LOVE this shoe! My ankle feels great after an hour of Zumba, and they keep your feet nice and dry with their mesh. They don't hinder my movement at all!"
"These shoes are soft and pliable. Perfect for the intricate dance steps in Zumba classes. I started out Zumba with heavy sneakers and I ended up with knee pain and almost twisting my knees. These shoes are lightweight and PERFECT!"
Capezio DS24
Capezio DS24 is another split sole shoe and an alternative to Bloch Amalgam. Same like Amalgam there is not much support for your arch but plenty of flexibility. Plus Capezio has flat toe-box for tor toe stands and glides well on different surfaces, even on carpet. It can be said that Capesio dance shoes (DS24) is the best shoes on carpet. It also runs small on size, so buy a half or even full size larger.
Characteristics:
Mesh, suede, and synthetic upper
Manmade sole
Flat toe-box for toe stands
Padded Achilles notch for added comfort
Non-marking PU outsole with built-in patented flex points
Perforated arch for ventilation and breathability
People are saying:
"This was my first time purchasing a dance sneaker, and I am in love! I have very difficult feet to fit and normally need to try on 10 pairs or so to find one pair I can wear. Bought these without a try-on, just from reviews online, and was amazed that they fit. Went with the prevailing advice to buy a half size larger, and that was just right for me. When I wore them for my first Zumba class, I couldn't believe the improvement in my movements, foot flexibility and comfort level. I actually bought two more pairs so that I can have them for a few years, as I have rarely been so pleased with any athletic shoes. They are well-made, stylish and lightweight. Perfect!"
"My knees hurt EVERY time I took Zumba…which is 2-4 days a week. I seen another girl have these on and took the plunge. These are heaven sent! Dancing in these are amazing!! You glide on/across the floor…instead of working for every move you do in regular tennis shoes. ***I got an entire size bigger due to reviews on here,,,,and I could have gotten away with just a half size bigger. Getting a full size bigger felt great…but over time it will become too loose. My suggestion is…if you don't mind breaking your shoes in (for longer-term use), just get 1/2 size bigger. If you want it to fit like it's broken in and not too snug…get 1 full size bigger. But be prepared to buy another pair in a few months because they are too big/unsupportive."
Reebok UR Lead Mid Shoe
Reebok UR Lead got into our top 5 Zumba's shoes, because it's the best high top sneaker for Zumba. It's light, durable, with flexible sole and pivot point. Colors of the shoes are very lively and attractive. Mid cut provides you with better lateral stability for the best Zumba experience.
Characteristics:
Breathable mesh with synthetic overlays and 3D FuseFrame
3D UltraLite tooling for lightweight cushioning
Pivot Point and Turn Zone for control in turns and spins
Vertical and horizontal flex grooves to allow the foot to move
ForeFoot Grip for traction in just the right place
Mid cut design gives you stability and support during dance activities
People are saying:
"I have been looking everywhere for a new pair of Zumba footwear and just happened to come across these shoes and thought I would give them a shot and the color was so much fun, I couldn't resist. I wore them for the very first time to a Zumba event and was THRILLED with how they did. The pivot point was spot on and did exactly what I needed it to do – turns with a little sass! :)"
"For ease of turning and lateral movements, these are exactly what I was looking for in a dance shoe. Very comfortable to move in and wear well. I have purchased several pairs."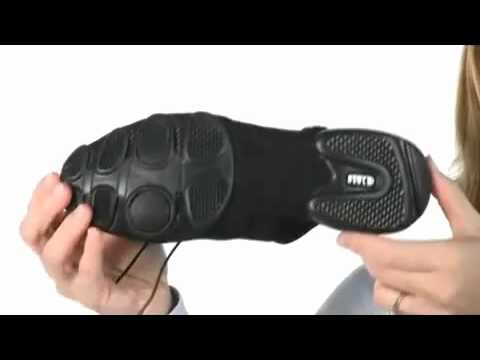 Conclusion
Hope now you armed with full information on what are the best shoes for Zumba and how to find the pair for you.
Remember to choose shoes, which suits the best biomechanics of your feet, your personality as well as type of floors and class intensity you attend.

Read more about zumba dvd system